Article by Angel, editor and chief of JustUsBoys.com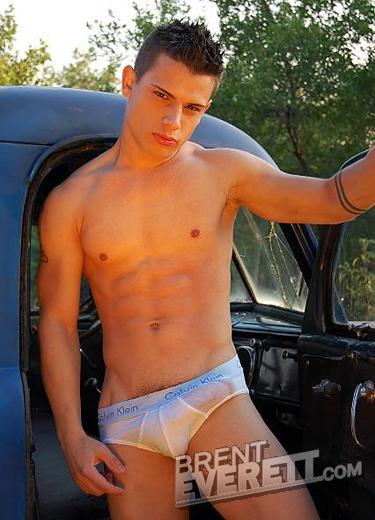 Saturday was day 2 of the big Crucible circuit event in San Diego. The first party was an afternoon T-Dance called Military Corps Showers, and it was at a hillside private estate that overlooked the city. Spinning tunes poolside, next to the gorgeous view, was DJ Shane Stiel. OK now SERIOUSLY, YET ANOTHER HOT DJ! Wow. Attending the party were Brent Everett and his boyfriend
Steve Pena
(who is producing the weekend-long event),
Brent Corrigan
and his boyfriend Grant Roy, and Cameron Lane. Then, when that party was over and a few hours had passed, the main event for the weekend, the one-year anniversary of Military Madness Night at Club Montage.
DJ Tony Moran
was behind the wheels of steel, and at 2 AM guests were treated to a performance by recording artist
Danielle Bollinger
(yes, just like the champagne) who sang some of her hits, like "Kiss The Sky." Then,
Brent Everett
himself came out and did a striptease in the cutest little sailor outfit that I have ever seen! Also MTV was following around filming and interviewing Brent Everett and Steve still. Word spread like wildfire that none other than
Dreamgirl Jennifer Hudson
was also in the crowd having a great time, but I didn't see her personally. Sunday is the last day of the Crucible, and I will be there and give you the full report after the events are over.
Categories
Gay Culture