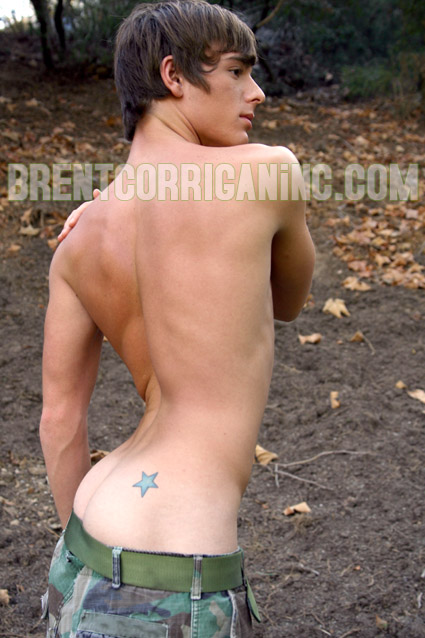 While some of my colleagues here at JUB are in Berlin attending the annual Hustlaball, I opted to stay a little bit closer to home and head on down to San Diego to attend
The Crucible circuit party
, which is produced by Steve Pena Productions (in cooperation with Nick DiSimas Entertainment).
Steve Pena (also known as Mr. Gay San Diego)
is the boyfriend of gay porn superstar Brent Everett. It's a military theme (since there is such a large military presence in San Diego and Steve is ex-military himself). The opening night party on Friday night was called The Brig, and it was held at Rich's. DJ Joe Gauthreaux (who is ridiculously cute, I mean seriously, what is with all these DJs nowadays being so damn HOT??) spun the tunes.
Brent Corrigan
headlined and danced in see-through black briefs. There was some worry that he might not show up, as he voiced trepidations in his blog and also is recovering from a knee injury. But he was there with his boyfriend Grant Roy and did a great job onstage, and signed autographs for fans afterward.
Brent Everett
and Steve Pena spent time in the VIP section of the club, and were being followed around all night by a camera crew from MTV. Also in attendance was gay porn star Jayden Holloway and popular blogger DeWayne. There was a live performance by dance diva Amuka (singing her anthem "You Don't Appreciate Me") and also by drag queen Flava (doing the same routine that he did at the White Party Las Vegas T-Dance). After that event was over, the party headed over to the Bacchus House for afterhours. In an interesting twist, Jayden did not go to the afterhours event, but his ex-boyfriend, gay porn star Brant Moore, did. (Those two have had quite the tempestuous past here in San Diego, all played out in the public eye). With no drama, both events turned out great.
Saturday has two events, one headlined by Mr. Everett, and you will read the full recap of it here!