By Angel of Justusboys.com Editor in Chief of JUSTUSBOYS.COM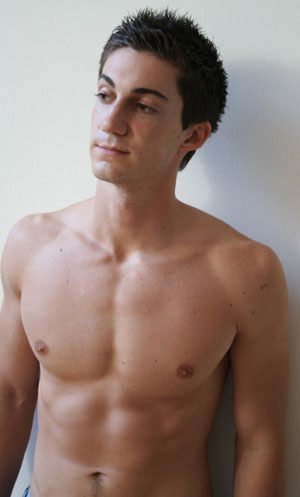 Last night
JT Taylor (aka Mr. Gay San Francisco) was crowned USA Mr. Gay 2007
in a ceremony at the Henry Fonda Theatre in Hollywood, California. The event was hosted by openly gay actor/comedian Alec Mapa. He made quite a few side-splitting comments with my personal favorite being "Fucking Nicole Richie must be like fucking a bamboo wind chime from Pier One." After all of the contestants were introduced on the stage, gossip columnists
Billy Masters
and Tony Miros gave out the Mr. Popular award to the winner of the online voting. The winner of Mr. Popular was Mr. Gay San Diego,
Steve Pena
(familiar to readers of this column as being the boyfriend of porn pup
Brent Everett
). What was hilarious was that Billy came out onstage in a silver minidress with thigh-high gogo boots, explaining that when he was told to be at the Fonda Theatre that he thought of Jane Fonda, and decided to dress up as Barbarella. When Tony explained to him that it was the HENRY Fonda theatre, he put on an old fedora and said, "Voila! Now, I'm Henry Fonda." The audience thought it was hilarious. The contestants had absolutely NO idea who any of the Fondas were, bless their hearts. After a group dance number to ABBA's "Dancing Queen" (yes folks the show was really THAT gay), in a rose ceremony reminiscient of the TV series The Bachelor Mr. Congeniality was awarded to Mr. Gay Chicago, Shar DeVon Date. Then eliminations were made and the top ten finalists were announced. Shockingly enough both Steve Pena and porn star Christian Owen were eliminated. (I wouldn't feel too bad for Christian though, at the afterparty it was quite obvious that sparks were flying between him and Mr. Gay Long Beach. So I guess he ended up with a prize after all.) After a round of interview questions and all of the contestants returning for a walk of the stage in their swimsuits, the winner was announced. Despite Mr. Gay Salt Lake City being an obvious audience favorite, Mr. Gay San Francisco took the prize, with Mr. Gay Green Bay being first runner-up and Mr. Gay Birmingham taking second runner-up. The International Mr. Gay competition will be held in January at the same location.